This week I've been trying to get more organised with my blog planning and decided it was time to start using a blog planner. I thought other bloggers may be interested in what I found so I've blogged about it here. I've also included as a FREE download, the weekly blog planner I designed for myself as the ones I found weren't quite what I was after.
I decided that for me, a weekly one page blog planner would work best. I needed to include things such as daily activities, social media and promotion planning as well as room for ideas. I developed this simple weekly blog planner which you are welcome to download and use. Please feel free to share it, pin it, print it but please don't modify it.
My Other Top Picks
This blog planner from Three Little Monkey's Studio would probably be my pick of the free planners I found. It was closest to what I was looking for and I actually modelled some of the look of mine on it.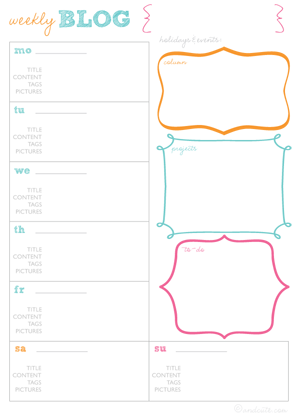 I'm also a little in love with this from andlove.com. I think the colours are gorgeous and it has two options for either more or less detail.
There are some other lovely options here and here.
Enjoy & Happy Blogging!